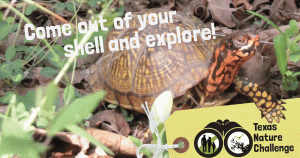 Spend all summer enjoying the outdoors with the RGV Family Summer Adventure Challenge, May 28 – August 27, 2016. The Challenge is a chance to spend quality time together while visiting different nature centers and parks in the Rio Grande Valley and, upon completion of the challenges, an opportunity to win cool prizes!
Find 12 challenges to complete over the summer. For your family to be included in the raffle you must complete at least 10 challenges from at least 4 different RGV nature sites. Keep a journal to help you and your family collect proof for each site/challenge. Starting May 28th, Journals can be picked up at any participating site.
Journals may be picked up at Frontera Audubon, located at 1101 S. Texas Blvd. in Weslaco, TX during Visitor Center Hours. Or you may download the journal by clicking this link.
Step 1. Call Frontera Audubon to register at 956-968-3275.
Step 2. Pick up your journal or download it at the link in previous paragraph.
Step 3. Complete the challenges and discover the natural world in the RGV!
Step 4. Return your journal with completed challenges to Frontera Audubon by Saturday, August 27th by 5 p.m.
Add yourself to our Facebook event and get even more info!