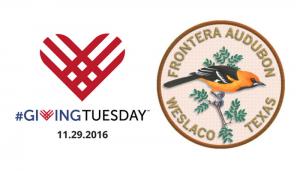 Frontera Audubon has joined #GivingTuesday, a global day of giving that harnesses the collective power of individuals, communities and organizations to encourage philanthropy and to celebrate generosity worldwide. The 15-acre nature park in downtown Weslaco has combined their Annual Appeal Fund Drive with Giving Tuesday so that donations made may be doubled, thanks to a generous matching gift from two anonymous donors.
Occurring this year on November 29, #GivingTuesday is held annually on the Tuesday after Thanksgiving (in the U.S.) and the widely recognized shopping events Black Friday and Cyber Monday to kick-off the holiday giving season and inspire people to collaborate in improving their local communities and to give back in impactful ways to the charities and causes they support.
"Not only are we inviting individuals to give, we are asking local businesses and their employees to participate and double their impact in the community," Sarah Williams-Salazar, Frontera Audubon's executive director said.
She says donations made will go toward maintaining the Thicket forest for the benefit of wildlife (over 200 bird species visit the park year round) and help foot the cost of educational programs for children, families and individuals. She stresses that Frontera Audubon is a nonprofit organization that relies on donations to stay open to the public.
92Y − a cultural center in New York City that, since 1874, has been bringing people together around its core values of community service and giving back − conceptualized #GivingTuesday as a new way of linking individuals and causes to strengthen communities and encourage giving. In 2015, the fourth year of the movement, #GivingTuesday brought together over 45,000 partners in 71 countries and helped raise nearly $117 Million online in the US alone.
"We have been incredibly inspired by the generosity in time, efforts and ideas that have brought our concept for a worldwide movement into reality," said Henry Timms, founder of #GivingTuesday and executive director of 92Y. "As we embark on our fifth year of #GivingTuesday, we are encouraged by the early response from partners eager to continue making an impact in this global conversation."
Those who are interested in joining Frontera's #GivingTuesday initiative can visit www.fronteraaudubon.org/aa2016 and make a donation through the PayPal button on the site.
"Don't forget to share your donations on social media with the hashtag #GivingTuesday to encourage others to bestow generosity on their charity of choice during this historic day of giving," Williams-Salazar said.
For more details about the #GivingTuesday movement, visit the #GivingTuesday website (www.givingtuesday.org), Facebook page (https://www.facebook.com/GivingTuesday) or follow @GivingTues and the #GivingTuesday hashtag on social media.
Frontera Audubon is a 15-acre nature preserve in Weslaco, Texas that leads in the preservation of historical and naturally diverse environments. The preserve is a haven for birds, butterflies, and other wildlife that thrive among its Tamaulipan Thornscrub habitat, orchard butterfly garden, wetlands, and ponds. Frontera houses a Visitor's Center and the Skaggs House, a Texas Historical Landmark, built in 1927.
The mission of FAS is to preserve and promote the natural and historical environment for the education and enjoyment of the community. Hours of operation are Tuesday through Saturday from 8 a.m. to 4 p.m. and Sundays from noon to 4 p.m. The preserve is closed Mondays.