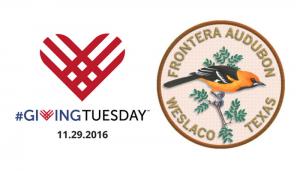 #GivingTuesday is a global day of giving fueled by the power of social media and collaboration.
Celebrated on the Tuesday following Thanksgiving (in the U.S.) and the widely recognized shopping events Black Friday and Cyber Monday, #GivingTuesday kicks off the charitable season, when many focus on their holiday and end-of-year giving.
Frontera Audubon will be part of this global giving day. In preparation, we will be sharing stories like the one below about our donors and those we serve. The best part is, if you make a donation anytime between now and December 31st, it will go toward our Annual Appeal and be DOUBLED, thanks to generous matching donors (up to $10,000).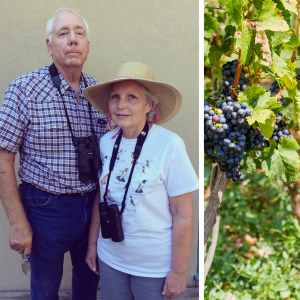 Annual donors send wine from their vineyard
By Sarah Williams-Salazar, Executive Director
Yesterday I had the pleasure of running into two of our long-time donors. Jon Tecklenberg approached the counter in the Visitors' Center, asking for me by name. "I'm Sarah!" I told him.
"Oh it's great to finally meet you…we've only spoken over the phone. My wife and I are some of Frontera's donors from California," he said.
"Yes, I know you! You send us cases of wine for our Dine on the Lawn fundraiser!" I exclaimed.
He asked me to come out to the back porch and meet his wife, Ann Drake who grew up in the neighboring Donna, TX. The couple live in Lodi, California, about 2,000 miles from here, where they own Tecklenburg Ranch, home to a 130-year-old vineyard of Zinfandel grapes, among other varieties.
Ann was struggling to raise the umbrella over one of our porch tables. The couple had picked up lunch at the Stripes store down the street (best gas station Mexican food you ever ate, believe it or not!) and planned to go birding in the Thicket after their meal.
She turned to me and said, "I love this place. If I had to pick one place in the Valley to go birding, just one, I'd pick Frontera. It's my favorite spot."
I said thank you and promptly invited myself to have lunch with them on the porch, and they willingly obliged. They told me they had traveled cross country with their cat, so of course we had to swap pet stories at length.
Jon told me they hadn't been able to travel to the Rio Grande Valley in recent years due to Ann having been sick for a time and also having to be with her mother who suffers from Alzheimer's. Ann shared some very personal stories about her experience with the disease and I told her about Frontera's new Bird Tales program which creates a multisensory stimulation experience for seniors, specifically those living with dementia and Alzheimer's.
Frontera's new part-timer, Marco Rangel, and volunteers visit memory care facilities and provide hands-on activities using plush birds which make bird calls when squeezed. They also help set up small habitats in the facilities' green spaces, adding native plants and bird feeders to help clients connect with nature.
"Anytime you can enhance their life, even if it's in that moment, it's worth it. Alzheimer's is such a difficult disease in so many ways," she said.
As we were wrapping up our conversation Jon spotted a Black and white warbler near the water feature and declared it 'time for birding.' He asked me about making a donation to Frontera and I said that our Annual Appeal is underway (our members should be receiving their letters any day now) and any donations made between now and December 31st will be doubled, thanks to the generosity of matching donors. He promised to keep in touch and make sure his donation gets to us in time.
As a parting comment, Ann reiterated her earlier sentiment saying, "If you were going to get into birding, this is the place to be. There's such a variety of birds to be seen in a relatively small area. It really is my favorite place and I love to contribute what I can."